Army.ca Relic
Subscriber
Donor
Reaction score

7,624
Points

1,160
83,303 convertible CRV-7 rounds currently being divested.​
Guided version[edit]​

In 2006 Bristol started testing a new version of the CRV7, the

CRV7-PG

. The weapon was introduced at Eurosatory 2006.

[16]

Bristol's current owners,

Magellan Aerospace

, offered it for sale starting in 2007.

The PG version, for "precision guided", adds a seeker developed by

Kongsberg Defence & Aerospace

to the front of any version of an otherwise unmodified CRV7. The seeker uses a simple

inertial guidance

system through the midcourse, and homes during the terminal approach using a

laser designator

. Other versions offer anti-radiation seeking, or GPS guidance. The precision guided kit includes the addition of tail fins and an in-flight control system. Combining the laser seeker with the FAT warhead produces a capable long-range

anti-tank missile

that is faster and much less expensive than traditional platforms like the

AGM-114 Hellfire

.

A version of the CRV7-PG was also developed for

special forces

use, fired from a single tube mounted on a 6 x 6. In use, the weapon would be driven into the field and fired from behind cover, aiming at a designated location from a forward team.

[17]
And of course there is a Canadian carriage prototyped and tested.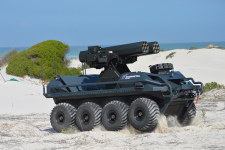 The Mission Master unmanned ground vehicle is produced by Rheinmetall to support multiple mission requirements of troops in difficult terrain conditions.
www.army-technology.com
The vehicle has a length of 2.95m and a base weight of approximately 750kg. Its modular design allows for carriage of 600kg easy-to-install payloads for operations on land, while its payload carrying capacity is reduced to 300kg during amphibious operations.
LG1 has a mass of 1520 kg without ammunition
C3 has a mass of 2400 kg without ammunition
And Arnold also produces this 23 round package
Specifications
Production history
Service history
AGR-20 (APKWS II)

1)top picture: standard Hydra-70 2)bottom picture: APKWS
Type
Rocket
Place of origin
United States
In service
2012-present
Used by
See Future and potential users
Manufacturer
BAE Systems
Unit cost
$22,000[1]
No. built
50,000[2]
Mass
32 lb (15 kg)[3]
Length
73.8 in (1.87 m)[3]
Diameter
2.75 in (70 mm) (unfired)[4]

---

Muzzle velocity
1,000 m/s (3,600 km/h; 2,200 mph; Mach 2.9) at max[4]
Effective firing range
1,100–5,000 m (0.68–3.11 mi) (rotary wing);
2–11 km (1.2–6.8 mi) (fixed wing)[5][3]

---

Maximum speed
2,425 ft/s (739 m/s)[6]
Guidance
system
Distributed Aperture Semi-Active Laser Seeker
Launch
platform
See Launch platforms
The

AGR-20 Advanced Precision Kill Weapon System

(

APKWS

) is a design conversion of

Hydra 70 unguided rockets

with a

laser guidance

kit to turn them into

precision-guided munitions

(PGMs).

[7]

APKWS is approximately one-third the cost and one-third the weight of the current inventory of laser-guided weapons, has a lower yield more suitable for avoiding

collateral damage

, and takes one quarter of the time for ordnance personnel to load and unload.