Army.ca Relic
Subscriber
Donor
Reaction score

5,428
Points

1,160
On finding consensus ....
Article by a Texas businessman and lawyer
I recently spoke at a breakfast and asked how many were pro-life and pro-choice. It was about 50-50. I then suggested we try to write an abortion law. I asked how many thought abortions should be illegal in all circumstances with no exceptions. No one raised their hand. I then asked how many thought there should be absolutely no restrictions on abortions. No one raised their hand.

I then took a vote on when abortion restrictions should kick in. About 12-15 weeks was supported by about two-thirds of the room. About the same percentage supported exceptions later than 12-15 weeks for the mother's health, fetal deformity, and rape/incest. So, a room that was, at first blush, polarized over abortion quickly found that a large majority agreed on the policy that should be enacted. And they also discovered that no one in the room supported the extreme positions currently reflected in the platforms of the Republican and Democratic parties.

The truth is that we have a political system that routinely frustrates the will of the American people.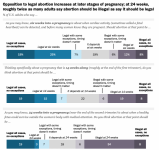 With this litmus test we have 19% of the population entrenched at one end of the spectrum and 8% at the other. The other 73% are in the "Yes but " camp - open to rational debate and consideration.
Where's that party?